MEDIA ROOM
CLICK FOR PRINT COPY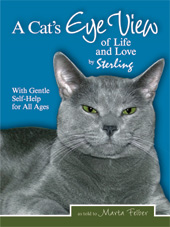 Title: A Cat's Eye View of Life and Love by Sterling
Subtitle: with Gentle Self-Help for All Ages
Author: Marta Felber
Publisher: LifeWords Publishing
US Distribution: Ingram, Baker and Taylor
UK Distribution: Garners, Bertrams (projected)
ISBN: 978-0-9799214-1-4
LC: 2008905217
Size: 8 ½" x 11"
Pages: 128
Format: Paperback
Price: $14.95
Publication Date: February 12, 2009
First Print Run: 6,000 (projected)

Website: www.SterlingtheCat.com
Email: info@lifewords.com
A Cat's Eye View of Life and Love by Sterling
Publication Date: February 12, 2009
Suggested Interview Questions:
• How did the idea for this book originate?
• How much is truth and how much fiction?
• Describe Sterling physically.
• In what ways did Sterling communicate?
• Why does Sterling refer to you in the book as "M"?
• The book has photos of Sterling on every page. Talk about the photos.
• In what ways did you field test this book?
• What is the significance of the "Mewsings" at the end of each story?
• "With Gentle Self-Help for All Ages" is the sub-title. Explain.
• What impact did Sterling's illness and death have on publication?
• What fulfillment did Sterling bring into your life as a widow?
• How is Sterling's book related to your other published books?
• What are your two favorite stories, and why?
• Share your dreams and expectations for this book.
Grief Topics for Interviews
Widowed person, grief, and a cat
Felber, a widow, adopts Sterling, a throw-away cat. He shows her how to live and love again, through his sixty stories in A Cat's Eye View of Life and Love by Sterling With Gentle Self-Help for All Ages. Felber shares from her journey with Sterling.
Abraham Lincoln and cats.
Abraham Lincoln was born on February 12th two hundred years ago. He loved cats and had a total of four while he lived in the White House. He would stroke the cats for long periods. We would like to think this helped relieve the stress in his life. Marta Felber, co-author of A Cat's Eye View of Life and Love by Sterling, also has her birthday on February 12th. Hear how Sterling became and remains a guiding influence in her life.
Top Ten Things to Say, and Not to Say to Me When I Have Lost a Loved One.
Felber gives quotes to illustrate each of the ten things, both pro and con.
Everyone handles grief differently.
Felber shares how young children, teens, men, and women each deal with their special grief.
How do you cope with the death of your spouse?
There is one day you will always remember-the day your spouse died. Your hurt is real and grief has no schedule. The important thing is to keep moving in the days, months, and even years following. Felber shares concrete actions. "Take control of your grief, as soon as you are able," she recommends, and tells how to do this.
Give of yourself to those who grieve.
Felber discusses five different ways, with specific and practical examples of each.

© Copyright 2008 LifeWords Publishing. All Rights Reserved.