BOOKS
LifeWords Publishing offers the following books for purchase directly from the publisher. Every book ordered directly from LifeWords includes an autograph from the author. In addition, if a book is ordered as a gift, a free gift card is also included. Both of these services are only available when you order directly from LifeWords.
A Cat's Eye View of Life and Love by Sterling
With Gentle Self-Help for All Ages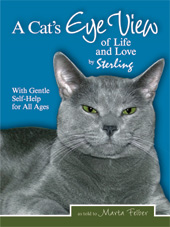 Look around your world. Is it peaceful, joyful, meaningful, and filled with friendships and intimacy? Do you sometimes find yourself struggling to create the life you want? Welcome to my book, A Cat's Eye View of Life and Love, where you'll discover how I face the challenges in my world, experience love and find peace. My motto is Live and Love.
READ MORE>>
Publication Date: February 12, 2009
Publisher: LifeWords
Co-Author: Marta Felber



LIMITED EDITION:
Grief Expressed: When a Mate Dies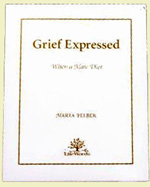 The Limited Edition of Grief Expressed: When a Mate Dies is available only at LifeWords. A limited-edition printing of this successful book comes personally autographed by the author. It has European type flaps on the cover, which can be used as bookmarks. There are two marble-like pages in the front and back of the book, to take you from the four color cover to the comforting inside. The book is put into a white sleeve that folds securely around it, protecting the book when not in use...
READ MORE>>

Grief Expressed: When a Mate Dies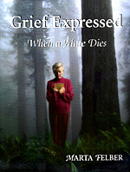 "This book will become a classic" was the prediction of persons in the field of grief, when it was first published in 1997. It is well on its way, with a January 2008 new edition printing. It remains the only book available that offers a widowed person's actual grief work, and invites others to journey by the side of the author. Space is provided, on pages with trees and flowers in the background, for the reader to make their own notes. The book becomes a treasure, and a testimony to "There is life during, and beyond, grief."
READ MORE>>

Finding Your Way After Your Spouse Dies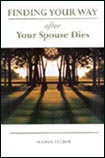 In Finding Your Way After Your Spouse Dies, Marta Felber offers the voice of a friend -- caring, hopeful, always pointing ahead to a tomorrow that will be a little easier than today. Having experienced her own spouse's death, Felber is never glib or simplistic. She knows the grief her readers are feeling and she encourages them to give it full expression. At the same time, she offers sound, practical suggestions on how to navigate difficult days.
READ MORE>>
Single copies and discounted quantity copies are available from Ave Maria Press. To order directly from Ave Maria, CLICK HERE. To order from Amazon.com, CLICK HERE.
© Copyright 2008 LifeWords Publishing. All Rights Reserved.