GRIEF EXPRESSED: When a Mate Dies
by Marta Felber - 2008 New Edition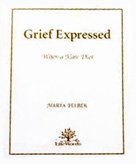 "This book will become a classic" was the prediction of persons in the field of grief, when it was first published, in 1997. It is well on its way, with a January 2008 new edition printing. It remains the only book available that offers a widowed person's actual grief work, and invites others to journey by the side of the author. Space is provided, on pages with trees and flowers in the background, for the reader to make their own notes. The book becomes a treasure, and a testimony to "There is life during, and beyond, grief."
The format lends itself to being adaptable to the loss of any adult. The arresting cover provides identification for the person in grief. The comforting interior embraces the reader. "The author understands," is such a relief to the person in grief. The text provides a direction in which to go, at a time when the person in grief feels out of control. A living person has made this journey before them. Grief Expressed is also being used as a means of understanding what a person deep in grief is going through, and what can be done to help that person. Grief group leaders use it as a text and as a handout to each member.
The Limited Edition of Grief Expressed: When a Mate Dies is available only at LifeWords. It has European type flaps on the cover, which can be used as bookmarks. There are two marble-like pages in the front and back of the book, to take you from the four color cover to the comforting inside. The book is put into a white sleeve that folds securely around it, protecting the book when not in use. The front of the sleeve when folded is a copy of the Title Page, in gold embossed lettering. The text in both editions is the same.
The Limited Edition is personally autographed by Marta Felber. This is a limited edition print. It makes a beautiful gift, in a white case, ready to give without wrapping.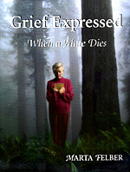 Book Description: A journal for widows and widowers. Fifty-four short chapters cover the practical aspects of moving on with life after a loss—such as adjusting to the emptiness of a new home, taking care of financial obligations, dealing with insomnia, building a support system, and more. Each chapter is followed by a journaling/list-making exercise that helps the bereaved regain control of their lives.
Book Review: "An excellent resource that should be provided to every widow and widower! Though its sensitive reality brings tears, its practical wisdom provides the courage and assurance that healing is possible and grief can be turned in positive directions. The gentle exercises are not only straightforward and honest, they can be applied universally. This book reveals the emotions and challenges that face every widowed person, and it goes on to offer the compassionate, connective support that brings hope and courage in even the darkest moments. "—Andrea Gambill, Editor, Bereavement magazine.

© Copyright 2008 LifeWords Publishing. All Rights Reserved.