Sterling /Waiting in the Animal Shelter
by Sterling the Cat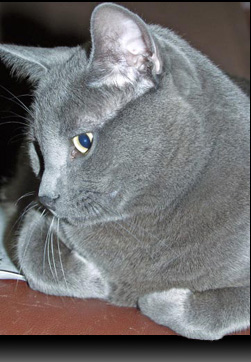 I waited and waited for someone to want me. I had the top shelf in the shelter all to myself. I curled up and watched all the activity below. Cats and kittens were all over the place. I saw people pick out a favorite and come for them the next day. It was never me they chose. One day I heard someone say, "I'm Marta, and I am looking for a special cat." I knew that left me out. I did feel sorry for her, however. The cats, and especially the kittens, pounced all over her and screamed. She kept peeling them off. Then she looked up and straight into my eyes. She came closer, gently reached out her hand and, in a soft voice said, "You are so beautiful. You are the one I choose."
I wanted to go with this soft-spoken woman, and I was disappointed when she left. Would she return? The next morning she was there, bright and early. The helper put me in the box she brought. "I had no idea Sterling was so heavy!" Marta said as she tried to carry my moving box to the car. If I'm too heavy will she keep me? I didn't like the box. It felt like a cage, and I wanted out. It wasn't big enough for me to even turn around.
What is going to happen to me? I don't really know this person. Where are we going? Will I like my new home? Will I get fed? Maybe the food will taste awful, like in the shelter. Will there be other cats for me to play with? Will there be a place I can call my own? And I have to go to the litter box, soon!
I felt the car moving and I began to yell, and I do mean yell! Marta talked non-stop in a soothing voice. I screamed so loud I drowned out her voice. She turned on music. I yelled even louder, so she turned off the music. It was then I saw a finger poking through a hole in the box. It was wiggling. I smelled it and stopped howling. Just like that.
The touch of a finger or a paw can mean so much.
© Copyright 2008 LifeWords Publishing. All Rights Reserved.