Marta Felber makes her mark
in the "litter-ary" world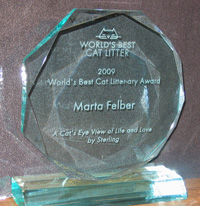 The International Cat Writers Association (CWA) has named Winston-Salem Writers member Marta Felber winner of the 2009 "World's Best Cat Litter-ary Award" for her book, A Cat's Eye View of Life and Love by Sterling, subtitled With Gentle Self-Help for All Ages (LifeWords Publishing).

The award was announced by Nancy Marano of Albuquerque, New Mexico, chair of the CWA's 16th annual competition of published works. The contest is sponsored by World's Best Cat Litter.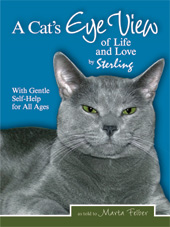 The judge of the competition, Roberta Lillich, DVM, made these comments: "My reason for choosing this over the other very qualified pieces of litter-ature is the way the author used the unique relationship between a cat and the caregiver as the main thread through the book. Everyone who has had the opportunity to share their life with a special cat, know the uniqueness of this bond, and the ways in which cats and their people communicate and interact as a result of this relationship. I believe this author did a fantastic job of not only capturing in writing the essence of this relationship but communicating it to others in a way that allowed them to feel the special nature of the relationship, as well."
A Cat's Eye View of Life and Love
by Sterling
With Gentle Self-Help for All Ages
Publication Date: February 12, 2009
Publisher: LifeWords
Co-Author: Marta Felber

© Copyright 2008 LifeWords Publishing. All Rights Reserved.